We have developed a dataset that is intended to be used as boundary conditions for regional modeling.
Get the data
1. Dates within the time period
January 1,
2010 to 2016
A small subset of the boundary conditions are available via rapid access from the ACOM server:
...
Regional and temporal subsetting option can be found at: https://www.acom.ucar.edu/cam-chem/cam-chem.shtml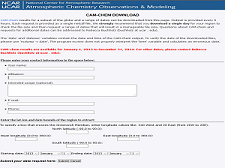 2. All available dates
January 1,
2001 to 2017
To access any of the complete dataset of shared files between January 2001 and June 2017 you will need a Globus account, which requires a Google account. Get Globus access here.
...