...
*** NOTE: The current version of output has incorrect HCN and O3S, please disregard these species ***
Get the data
1. Subset from dates within the time period January 1, 2010 to June 30, 2018
A small subset of the boundary conditions are available via rapid access from the ACOM server:
...
Regional and temporal subsetting option can be found at: https://www.acom.ucar.edu/cam-chem/cam-chem.shtml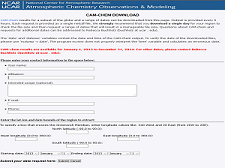 2. All available dates January 1, 2001 to 2017
To access any of the complete dataset of shared files between January 2001 and June 2017 you will need a Globus account, which requires a Google account. Get Globus access here.
...
Note: direct download option from this site is in beta testing phase and should be available in the future.
Reference
Please use the following reference when using the data:
...
  †Please fill in the "Accessed" date with the day, month, and year that you last accessed the data (e.g. - 5 Aug 2011).
Other simulations
Other experimental output can be found here: Benchmarks and Production
...