...
*** NOTE: This version of output has incorrect HCN and O3S, please do not use these species ***
Get the data
1. Subset from dates within the time period January 1, 2010 to
...
November
30, 2018
A small subset of the boundary conditions are available via rapid access from the ACOM server:
...
Regional and temporal subsetting option can be found at: https://www.acom.ucar.edu/cam-chem/cam-chem.shtml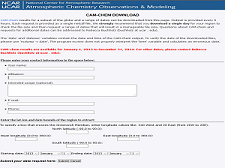 2. All available dates January 1, 2001 to
...
November 30, 2018
To access any of the complete dataset of shared files between January 2001 and June 2017 November 2018 you will need a Globus account, which requires a Google account. Get Globus access here.
Once you can log into Globus, the boundary conditions are stored here:
January 2001 to June 2017: https://app.globus.org/file-manager?origin_id=2acef47e-ed07-11e8-8cae-0a1d4c5c824a&origin_path=%2F
January 2017 to November 2018: https://app.globus.org/file-manager?origin_id=43c13884-7038-11e9-bf46-0e4a062367b8&origin_path=%2F
Files can be transferred to another location using the Globus system. To set up a transfer point see the relevant page:
...