...
Regional and temporal subsetting option can be found at: https://www.acom.ucar.edu/cam-chem/cam-chem.shtml. Note there is a limit to download data in chunks of 32 days.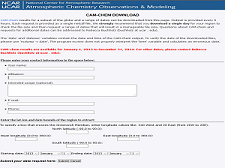 *** Boundary conditions usually lag by approximately 6 months due to input file availability ***
For more recent dates, you could consider using the WACCM forecast for boundary conditions, which is available from a year ago to 10 days from now: https://www.acom.ucar.edu/waccm/register.shtml.
...