Over the last ~7 days we've noticed that the sonic at LC has been intermittent during the overnight hours. During these periods we're seeing an ldiag=1, although the sonic does still report values sporadically. As it turns out, the pattern of ldiag=1 from roughly 8 pm to 9 am has been consistent throughout the project, however the missing data started just within the last week or so. 


In looking at the DSM dashboard today, I found diagbits=0, 1 and 5 at various times while ldiag=1. I haven't looked at past data to see if this pattern has been consistent. According to the EC-100 manual these represent "amplitude is too low", "amplitude is too high", and "sonic head calibration signature error", respectively.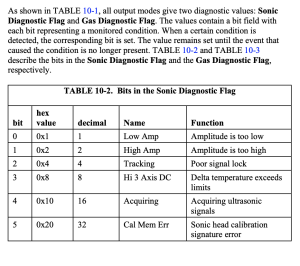 It's pretty clear that this is not an icing/obstruction issue, so the best course of action may be swapping out the sonic. Since we do not have a spare, Steve has suggested swapping out the EC-100 box to see if that helps. John and Jacquie will try this in the next couple of days.